Norman Brault & Family ( Canada ) : Lodge Safari , August 2011
« What a wounderful safari we experienced ! Starting right away at the pick up point at the aiport, we connected with our fantastic guide Athunami. From that moment, to the end of our safari tour, we felt secur and well taken care. We saw numerous animals many other tourists did not see, thanks to Atunami who has an extraordinary knowledge of the fauna and flora of Tanzania. I invite any Canadian to book with Fay Safari, you will not be desapointed».

Signed : Normand Brault, Quebec City.
Stacey Rod & Laura Mills ( New Zealand ): Lodge Safari, Zanzibar Beach Holiday , July 2011
Thank you for arranging the BEST holiday ever !!! The 10 fabulous, unforgettable days on Safari with Athumani- our fantastic, knowledgeable, funny, charming, wonderful guide who looked after us brilliantly from woe to go. We saw the big five and the other ninety five, up close and personal. (watching a crocodile take a zebra was a great moment).The balloon trip was great. The accommodation you arranged was just the right mix, from wilderness experience to luxury. The 6 days on days on Zanzibar were glorious .(I guess you secretly arranged the ???unplanned??? swim with dolphins on our snorkeling trip as well ?) Thank you for listening to our list of wants and despite our tight budget you managed to make them all come true.

Laura Mills and Stacey Rod,

Christchurch, New Zealand

Lukas D˙kmans & Marieke Blommers ( Holland ):

Kilimanjaro (7 days, Machame route) and Lodge Safari (5 days) June 2011

We are just back from 2 weeks Tanzania. A wonderful country for adventure and Safari. With great help of Fay Safaris we booked the Machama route, climbing the Kili and experienced a lodge Safari.

Climbing the Kilimanjaro was amazing, such a great adventure and a big relief at the top. During the route we had 2 great guides, Sam and Elly. Especially on summit day they were really helpful! These 7 days were one big adventure, but with the 2 guides and the rest of the crew (in total 9 people) we really were able to do this climbing quite easily.

After the first day we were already above the clouds and enjoyed the views and the sun. Sleeping in a tent is not our daily business, but within 2 days it felt comfortable. The staff listened very good to our wishes and needs. The meals during our trekking were very tasteful, although our appetite was not very good. Reaching the summit, we both made it (!), was wonderful and the view was magnificent.

The Lodge safari was very relaxing and during the 5 days we saw the big 5. With our very nice and helpful guide, Vincent, we visited 4 national parks. And all parks had some uniqueness'. Sleeping in the luxurious lodges was a big relief after one week in a tent. The lodges were very nice and the people were really helpful. Visiting Serengeti and Ngorongoro was just wonderful, watching leopards, elephants and lions is a privilege. Doing a game drive is a really must-do in Serengeti. In Tarangire we saw a lot of giraffes and elephants, in lake Manyara we spotted thousands of flamingo's. After 5 days we went back to the airport and flew back home, our honeymoon was over. A unforgettable trip for us thanks to all the help of Fay safaris.
Sarah Yackel, Mark McKevitz, Veronica Triana ( America ) : Camping Safari , March 2011
In early March 2011 we went as a group of 3 on a Tanzania northern parks safari with Fay Safaris. It was a wonderful experience. We would highly recommend Fay Safaris. Before we settled on Fay Safaris, we had researched and been in correspondence with many companies. We went with Fay because she stood out in her correspondence in that she quickly grasped what we wanted and matched it within our budget, while giving her inputs based on experience when appropriate. When we arrived, the staff helped us track down our lost luggage and treated us with warm hospitality. Even though we went with the budget camping safari, the camping standards far exceeded our expectations. The campsites were much nicer than expected, and the 'cook' is a misnomer because Aaron was a trained chef! Our driver-guide, Vincent, was one of the nicest and most knowledgeable people we've met. Fay Safaris also planned a lovely Zanzibar excursion for us. Fay Safaris is a small family-owned company, with excellent staff. As such, we received lots of personal attention, and would highly recommend Fay Safaris for a quality and pleasurable vacation.

- Mark, Veronica, & Sarah
Caroline Worthley (Australia) : Arusha National Park & Canoeing Safari, February 2001
I had a great time on my 2 day safari to Arusha National Park. Despite being on my own for this part of my holiday, my driver Vincent was good company and I felt that 2 days was a good period of time to spend in the park to allow me to go on a walking safari and a canoe safari. Vincent had good knowledge of the area and gave me adequate time to enjoy the views and the nature. The guides I had for the walking safari and canoe safari were also very knowledgeable and I felt safe, even being so close to buffaloes and hippos! The accommodation was more than adequate as were meals.

Thank you for giving me some good ideas for a short solo safari and organizing my safari with some adjustments due to the wet weather! I will certainly recommend Fay Safaris to future African adventurers!
Leanne and Rob Phelan ( America ) : Camping Safari, January 2011
We had a great time and would recommend you for the future. We were well looked after and the food was great! We saw everything we wanted to see and much much more. Our guide and cook were very knowledgeable about the area and knew where to find the animals.

- Leanne & Rob

Edward Matos and Family ( Spain ) : Camping Safari December 2010

Hi Fay,

For some reason I can no longer leave feedback on the TATO website! So I'm very sorry for having delayed so long to give you feedback. We had an amazing time, with some fantastic highlights. Including witnessing a leopard hunt and successfully capture a wildebeest and watching a family of elephants trundle across the Ngorongoro from the viewpoint through the binoculars. It's definitely one to remember! Please find attached some photos of our trip. I'll let you know when we are coming to climb some mountains!

Best regards,

Edward
Scott Christman/Ryan Price/Maria Orosz/Anne Gillespie/Andrew Klinger :

Baltimore, Maryland ( USA ) : Kilimanjaro Climb & Camping Safari September 2010
Fay Safari did a fantastic job planning and providing my group this unforgettable trip. First, we did a seven day hike up the Machame Route of Kilimanjaro. It was difficult, but due to the experience of our guides, Sam and Aaron, all five of us made it to the top at 7:30am on October 2, 2010.

Next we did a four day, three night safari through Lake Manyara, Serengeti, and Ngorongoro Crater. These were all amazing, but we got the closest to the wildlife in the Crater. Our guide, Vincent, answered all the questions we had about wildlife and at night we taught him how to play Gin Rummy!

All the guides and porters were great. The food was good. The tents and equipment were in good shape. The safari vehicle was large and very rugged.

All in all it was a great experience. I would highly recommend this trip to anyone interested in a rugged, exciting, and ultimately rewarding trip. I also highly recommend having Fay Safari be the company to provide such an experience.

Sincerely,
Scott Christman
Baltimore, Maryland, USA
Falvio and Cristina Poggi ( Switzerland ) : Lodge Safari & Zanzibar Getaway Jan 2010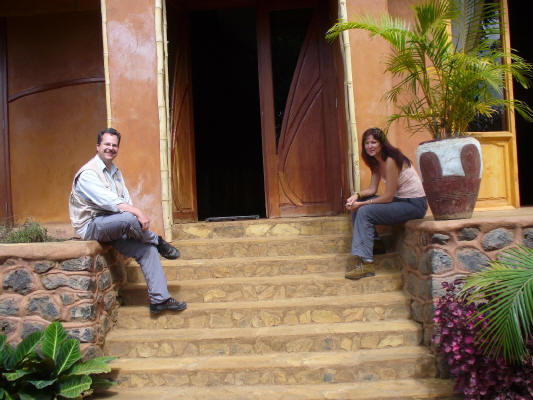 We choose Fay Safaris because in our year-long experience small, local companies are much better compared to the bigger ones: personalized service and attention to the customer and to all small details that make the difference. Even a call from time to time to check if we were satisfied with all services provided (!)

The booking process was attentive to our whishes. The program included some different adventures that citizens usually don't include in their trips: climbing to the first hut on the way to the Kilimanjaro, meeting the bushmen and other tribes, etc.

The quality and service at the lodges met - or was even over our expectations. Duncan, our professional and extremely friendly guide, willing to help us to fulfill our passion for pictures and patient enough to wait for hours for the perfect shot.… what else? A bit of luck, maybe, that made it possible to regularly see the big five and all kind of animals.

In conclusion we warmly recommend Fay Safaris to any guest who simply wants the best at reasonable prices.

Flavio and Cristina Poggi – 6528 Camorino – Switzerland
Natalija & Nicolajas Malceva ( Latvia )... Lodge Safari Aug 2009
With Fay Pimenta Director FSL With Tom Driver/Guide FSL
Dear Fay,

First of all, I want to tell you thank you very much for our excellent safari tour, for your cordial greeting, for your help and assistance.

You are the best!!! Hearty thanks to Ambert, Fay, Shayo and Thomas !!!

Thank you very much from my father. He is happy!!! I am happy!!! At this moment I have a lot of emotions!!! Tomorrow I will forward you our photos and comments. This was one of the best organized tours in my life! Thank you for your professionalism!!!
----------------------------------------------------------------------------------------------------------------------------------------------------------------------------------
Dr. Bettina Wunsch-Semmler & Monika Plitzner ( Germany 2008 )
Mountain Climbing , Lodge Safari and Zanzibar Getaway
Herzlichen Dank fuer die perfekte Organisation und Abwicklung meiner Tanzaniareise. Es hat wirklich alles gestimmt. die Besteigung des Kilimanjaro war perfekt und erfolgreich, dank eines tollen Teams und eines sehr erfahrenen und umsichtigen Guides. Die Safari durch die verschiedenen Nationalparks war ebenfalls perfekt organisiert, wir hatten auch das Glueck, fast alle Tiere zu sehen. Unserem Fahrer gilt ebenfalls mein Dank. Er war immer fuer uns da und hat uns viel erklaert. Die Unterbringung war klasse, insbesondere die Karamalodge ist sehr zu empfehlen. Ich werde bestimmt wieder kommen, vielleicht fuer eine zweite Besteigung des Kili, die Organisation der Reise werde ich dann wieder dem Team von Fay Safarai ueberlasssen. Asante Sana, Bettina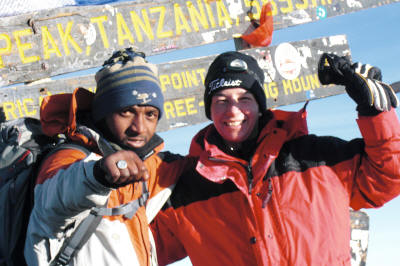 English Translation....
Thank you for the perfect organization and execution of my Tanzania trip. It was really perfect. the ascent of Kilimanjaro was perfect and successful, thanks to a great team and a very prudent and experienced guides. The safari through the various national parks, was also perfectly organized, and we have had the luck, to see nearly all animals. My thanks to our driver also. He was always there for us and gave us a lot of explanation. The accommodation was great, especially the Karama lodge is highly recommended. I will certainly come back, perhaps for a second ascent of Kili. the organization of the trip I will then give it in the hand to the team of Fay Safari. Asante Sana, Bettina

----------------------------------------------------------------------------------------------------------------------------------------------------------------------------------
BARBARA MATUSZAK ( Poland) : Lodge Safari October 2008

Dar/Zanzibar/Ruaha/Manyara/Serengeti/Ngorongoro

Hot greetings from cold and rainy Poland!
I have reach Poland without any problems. In my country autumn is coming. After my wonderful journey to Tanzania it is a big change. Every day I come back to my memories and photos from my beautiful travel. Thanks to your Company I could visit various regions of your Country. From Dar-e-Salaam, vibrant with life, calm Bagamoyo, aromatic Zanzibar to wonderful nature in Ruaha, Manyara, Serengeti and Ngorongoro Park. Small villages, smiling and polite people, beautiful children . Amazing animals in their natural habitat, plants (mystic baobabs , acacias as umbrellas ,colorful bougainvilleas......) ,. Never-ending open spaces. Sun and blue sky, full of stars and with Milky Way at night. Wonderful voices of cicadas, birds, elephants.... Calm Indian Ocean with beautiful fishes, warm onshore wind.......Where is a paradise? I think there is in Tanzania!
I thank you very much for your hospitality. Unforgettable evening at your home, Yvette! I felt safe and relax. I was pleased with standard of hotels and food . All my guides were qualified. I really spent very nice vacation !
In near future I will arrange "African evening" at my home and tell my family and friends about your Country.
I have selected some of my photos and recorded them on CD. I will send the CD to you tomorrow.
I would like to visit Tanzania again, but this time just after raining season. I hope to fulfill my dream with your Company!
I greet you heartily, hope to see you again. From the bottom of my heart, Barbara Matuszak from Poland.
Sorry for my English, but you know it is very kidogo. I promise to improve

----------------------------------------------------------------------------------------------------------------------------------------------------------------------------------

David and Hayley (UK) - Camping Safari 2007

Camping Safari Manyara/Ngorongoro/Tarangire
Thanks again for organizing the safari for us, we had a great time and Jacob and Galilea were excellent!

I have attached the photo for you as requested for the website, and also a couple of good photos we took - feel free to use them on the website too if you want.

Thanks,
David and Hayley ( United Kingdom )

-----------------------------------------------------------------------------------------------------------------------------------------------------------------------------------

Cirilo and Leticia Villarreal Pachoca ( Mexico ) : - Lodge Safari 2007

Manyara/Serengeti/Ngorongoro Tarangire

Safaris was very interesting and very beautiful everything was excellent the guide was very amiable and very kind. The trip was very interesting with all the attention of the excellent guide .We greatly appreciate all you have done.